SupaWash! Beard Wash & Shampoo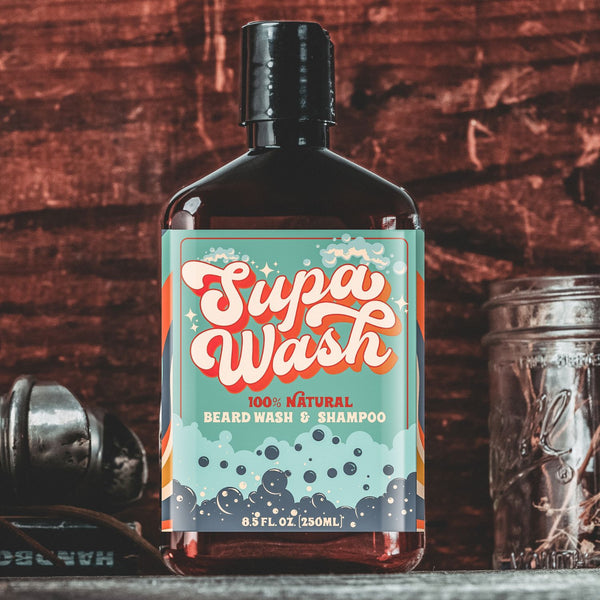 Our all-natural, dandruff-fighting, beard wash and shampoo! Your beard is about to get groovy!
The Inspiration
We wanted a completely natural beard wash & shampoo for guys who are tire of putting chemicals on their face.

The goal was simple: create a beard wash that is effective in eliminating or significantly reducing beardruff (beard dandruff), be free of gluten, sulfates (SLS), parabens (chemical preservatives), & coconut or coconut derived ingredients.

The solution is a unique one. We use Soap nuts (also known as soap berries) as our surfactant -- that does the cleansing bit -- and a host of other recognizable ingredients to moisturize, fight bacteria, and leave your beard or hair feeling groovy!
Product Details
Size: 8.5oz/250ml
Suggested Use: Daily
Ingredients: Sapindus Mukorossi [Soap Nut] Fruit Extract, Aloe Barbadensis [Aloe Vera] Leaf Juice, Butyrospermum Parkii [Shea Butter], Glycerin, Mel [Honey], Simmondsia Chinensis [Jojoba] Seed Oil, Vitis Vinifera [Grapeseed] Seed Oil, Azadirachta Indica [Neem] Seed Oil, Eucalyptus Globulus [Eucalyptus] Leaf Oil, Melaleuca Alternifolia [Tea Tree] Leaf Oil, Rosmarinus Officinalis [Rosemary] Leaf Oil, Cyamopsis Tetragonoloba [Guar] Gum, Helianthus Annuus [Sunflower] Lecithin
Allergen Info: Free of gluten & coconut. May be sensitive to people with tree nut allergies. Always test a small patch first.
Proudly made in small batches, by us in Huntersville, NC!
Usage
Daily use is fine and is recommended for beards with dandruff.
Is it a Conditioner or a Shampoo? Yes!
Because it is 100% natural, our beard wash feels more like a conditioner than a traditional shampoo. Natural products which are free of sulfates don't foam or lather like what you may be used to. This is perfectly normal.
Usage
Massage it into your beard and/or hair and let it sit for a bit. Rinse it out and rock on!
Our Guarantee
You'll love the product ordered in every imaginable way, or we'll refund or replace it. That's it. 👊