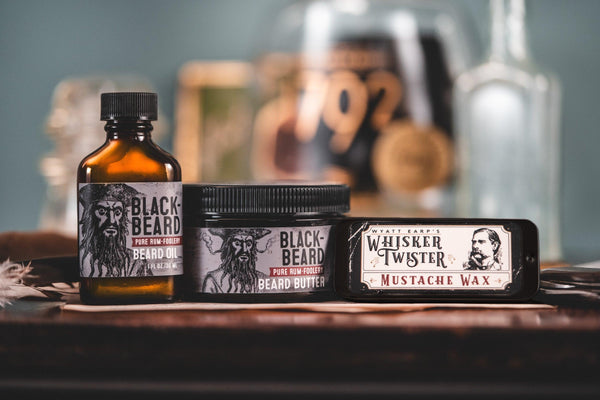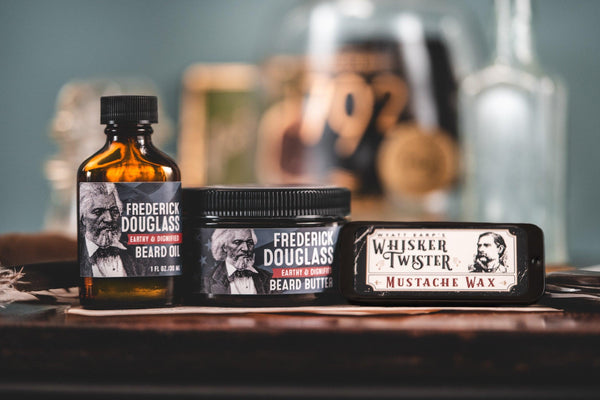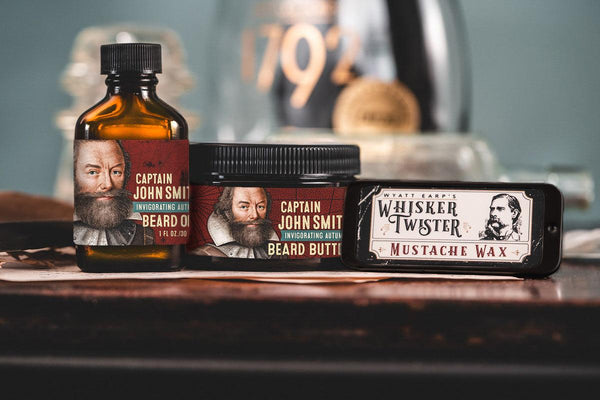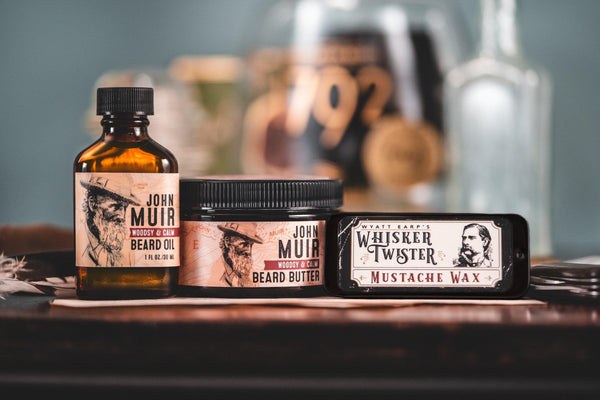 You're proud of your beard and we know you want it to look great and smell awesome. We've got you covered!
Beard Wash & Shampoo - For Your Beard & Hair
Our all-natural beard wash & shampoo sets the stage for a great beard. Free of coconut, sulfates or parabens, you can use this beard wash with confidence that your kicking off the day, naturally.
Beard Oil - For Your Face
Beard oil replenishes and balances out the oil in your skin. Because we use argan oil as our only carrier oil, you no longer have to worry about the dreaded "beardruff" or itchy beard.
Beard Butter - For Your Beard
Beard butter helps condition the beard itself and allows for some styling of the beard as well. We use kokum butter as a primary ingredient because it's drier and has a higher melting point than other butters.
Mustache Wax - For Your Stache of Course!
The mustache is the crown of the beard! It's what really makes a beard stand out. Our Wyatt Earp's Whisker Twister Mustache Wax is strong enough to hold, but soft enough to mold, so you aren't pulling out whiskers trying to apply it.
The Scents
John Muir Beard Oil/Butter
Our Muir-esque beard oil hearkens to the mountains he called home. Balsam fir & spruce oils give this beard oil a bright note, while some spicy extra oils give it a warmth as well.
Frederick Douglass Beard Oil/Butter
Born a slave, Frederick Douglass took up his freedom and inspired the reformation of a nation. Our Douglass beard oil reminds us of the smell after it rains, earthy, and yet stately and dignified.
Blackbeard Beard Oil/Butter
A legend, a villain, and a hero? Such is the pirate's life. Our Blackbeard inspired beard oil has the essence of rum, vanilla, tobacco and clove. It's a spicy sweet scent that is probably nothing like Blackbeard's true aroma, but like the many pirate tales, it too has been romanticized.
Henry David Thoreau Oil/Butter
Thoreau left the city life of -- of the early 1800s -- and took to the woods as a means of developing a greater sense of self-reliance. Even in his day he could feel the encroachment of modernism on his masculine soul. The character notes in the Thoreau-inspired beard oil are woodsy, earthy, spicy, and yet mellow. The primary oils are dark patchouli and juniper berry.
Captain John Smith Oil/Butter
Captain John Smith was critical in establishing towns in the New World. His writings on the early colonial days of America give us insights into just how hardy and determined American settlers were. The notes in this scent are created from perfectly balanced port orford cedar, cinnamon, nutmeg, & vanilla. A welcoming fall scent.